Truth is knowledge... only verified SM
Information & Database Services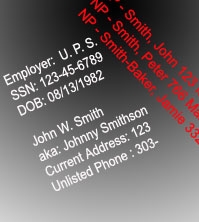 In this global information age, there is much information that is not easily accessible or otherwise restricted.
Telephone & Cellular Records *
Long Distance Toll Records *
Driver License Information & History *
Vehicle Information & History *
Federal & State Criminal Records *
Professional Licenses
Social Security Information *
Real Estate Ownership & Transfers
Relatives & Known Associates
Business associations
Business Profiles (owners, officers, revenue, credit history)
Liens and Judgments
Bankruptcies
UCC Filings
Active U.S. Military Personnel
DEA Controlled Substance Licenses
Federal Firearms and Explosives License
Bank and Brokerage Accounts (only with a valid court order or judgement)
Significant Shareholders
Diogenes LLC utilizes specialized software to draw from a vast number of information resources, such as public records or proprietary data, court databases, interviews, photos, financial records and police databases. See our Sample Report.
The above is just some of the information that the "average person" is unable to obtain or does not know where to look. Diogenes Investigators have legal access to all this information and much, much more. We have access to over 30 billion records!

We taylor our pricing structure to your exact needs. For a current listing of available information, you may contact us by telephone (203.264.6802) or via email.

* Diogenes LLC reserves the right to screen, limit, redact or otherwise refuse requests for information inconsistent with IRSG Principles and the legal requirements of the Gramm-Leach-Bliley Act (GLBA), Drivers Privacy Protection Act (DPPA), Telephone Records and Privacy Protection Act (TRPPA), Right to Financial Privacy Act (RFPA), and federal & state laws..

To learn more, you may contact us by telephone (203.264.6802) or via email.

Close this Window to return to the Services Page.



home | about us | services | resources | contact us